14karat Stud Earrings Plain Water Drop Shape
Elevate your style with 14Karat Stud Earrings: timeless elegance in 14k gold. Effortlessly enhance any outfit with these versatile water drop earrings.
SKU:

N/A
Categories: 14K Gold, 14K Gold Earrings, Apparel & Accessories, Earrings, Gold, Jewelry, Metal Type
Tags: 14K Gold, AU585, earrings, Engagement, fashion&beauty, Fine Jewlery, gemstonejewelry, gold jewellery, handmadejewelry, jewelryaddict, luxurylifestyle, minimalistic jewellery, ootd, orofortuna, Real Solid 14K Gold, Round, stud earrings, Stud Earrings for Women, Wedding, Yellow Gold
Description
14Karat Stud Earrings: Elevate Your Style with Timeless Elegance
Introducing our exquisite collection of 14Karat Stud Earrings. They are  a stunning blend of sophistication and simplicity that will effortlessly enhance any outfit. Crafted with meticulous attention to detail, these 14k gold plain water drop stud earrings for women are the epitome of elegance and grace. Let these exquisite pieces become a staple in your jewelry collection, allowing you to effortlessly radiate confidence and style wherever you go.
Unparalleled Quality: Crafted in 14K Gold
Our 14Karat Stud Earrings are meticulously crafted using the finest 14K gold, ensuring a premium and lasting piece of jewelry that will stand the test of time.
With its stunning water drop design, these earrings gracefully dangle from your ears, creating an eye-catching allure that captures the attention of onlookers.
The gentle sway and shimmer of the 14k gold perfectly complement your natural beauty, adding a touch of refined charm to your overall ensemble.
Versatile Sophistication: Elevate Any Outfit
Whether you're attending a formal gala or adding a touch of elegance to your everyday attire, these plain water drop stud earrings are the perfect accessory for any occasion. The timeless design seamlessly blends with any style, allowing you to effortlessly elevate your outfits from ordinary to extraordinary. From casual outings to glamorous events, these earrings are the ultimate versatile choice, making them a must-have accessory for every fashion-forward woman.
Unleash Your Inner Radiance: Effortless Confidence
There's something truly mesmerizing about the way these 14Karat Stud Earrings gracefully frame your face and reflect your inner radiance. The smooth and polished surface of the 14k gold exudes a captivating glow that enhances your natural features, subtly drawing attention to your beauty. The water drop design symbolizes purity and serenity, instilling a sense of calm and confidence in whoever wears them. Prepare to be captivated by the hypnotic charm these earrings possess.
Experience Timeless Elegance: A True Fashion Investment
Investing in our 14Karat Stud Earrings means embracing the beauty of enduring style. With their timeless appeal and remarkable craftsmanship, these earrings are destined to become an heirloom piece. They will be one of a kind treasure for generations to come. Whether you're buying them for yourself or as a thoughtful gift for a loved one, these earrings are a true testament to your impeccable taste and appreciation for elegance.
Indulge in the Allure of 14Karat Stud Earrings
Take your style to new heights with our 14k Gold Plain Water Drop Stud Earrings for Women. Elevate your everyday outfits and add a touch of sophistication to your special occasions. With their unparalleled quality, versatility, and timeless elegance, these earrings are a fashion investment you won't regret. Embrace your inner radiance and let these stunning earrings become an extension of your unique beauty.
Order your pair of 14Karat Stud Earrings today and embrace the allure of timeless elegance!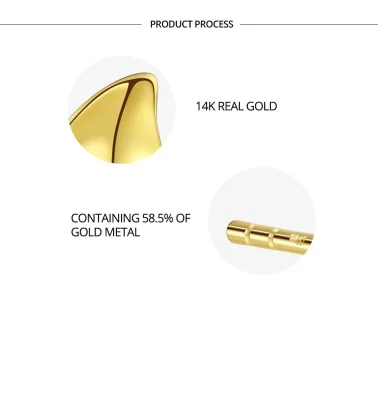 Related products