14K Round Stud Earrings for Women
Elevate your style with our 14K Gold Round Stud Earrings. Captivating design, premium quality, and timeless elegance for women. Order now!
SKU:

N/A
Categories: 14K Gold, 14K Gold Earrings, Apparel & Accessories, Earrings, Gold, Jewelry, Metal Type
Tags: 14K Gold, earrings, fashion&beauty, gemstonejewelry, gold jewellery, handmadejewelry, jewelryaddict, luxurylifestyle, minimalistic jewellery, ootd, orofortuna, stud earrings
Description
14K Round Stud Earrings
Introducing our exquisite 14K Round Stud Earrings, the perfect accessory for women seeking timeless elegance and minimalist charm. Crafted with meticulous attention to detail, these plain round stud earrings are designed to add a touch of sophistication to any outfit. Elevate your style effortlessly with these stunning earrings that capture the essence of understated beauty.
Captivating Design:
The focus of our attention is the captivating design of these 14K gold round stud earrings. Handcrafted to perfection, each earring features a flawlessly polished round stud, reflecting light and radiating a subtle glow. The minimalist design effortlessly complements various fashion styles, making it a versatile piece that transcends trends and can be worn for any occasion.
Premium Quality: Craftsmanship at Its Finest
Our commitment to quality is unmatched. These earrings are expertly crafted from genuine gold, ensuring long-lasting durability and enduring beauty. The high-quality materials and superior craftsmanship ensure that these earrings will remain a cherished part of your jewelry collection for years to come.
Effortless Versatility: From Day to Night
With their timeless appeal, these 14K gold round stud earrings effortlessly transition from day to night. Whether you're dressing up for a formal event or adding a touch of elegance to your everyday attire, these earrings are the perfect choice. Their simplicity allows them to be paired with any outfit, from casual jeans and a t-shirt to an elegant evening gown.
Comfortable and Secure: Wear with Confidence
We understand that comfort is just as important as style. That's why our 14K gold round stud earrings are designed with your comfort in mind. The lightweight construction ensures a comfortable fit, allowing you to wear them all day long without any discomfort. The secure butterfly backings keep the earrings in place, giving you the confidence to go about your day without worrying about losing them.
Unleash Your Inner Radiance: Make a Statement
When you wear our Stud Earrings, you're not just accessorizing – you're making a statement. Embrace your inner radiance and let these earrings be a reflection of your unique style and personality. Their timeless beauty and effortless elegance will turn heads and inspire envy wherever you go.
Order Your 14K Round Stud Earrings Today!
Experience the allure of our Minimalist Round Stud Earrings for Women. Elevate your style, enhance your confidence, and make a lasting impression with these captivating earrings. Add them to your cart now and let your style shine with their mesmerizing charm.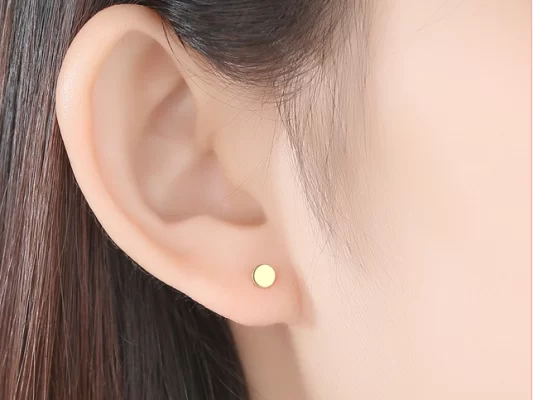 Related products